Weekly Highlights (Nov 6th – 12th)
10 November 2023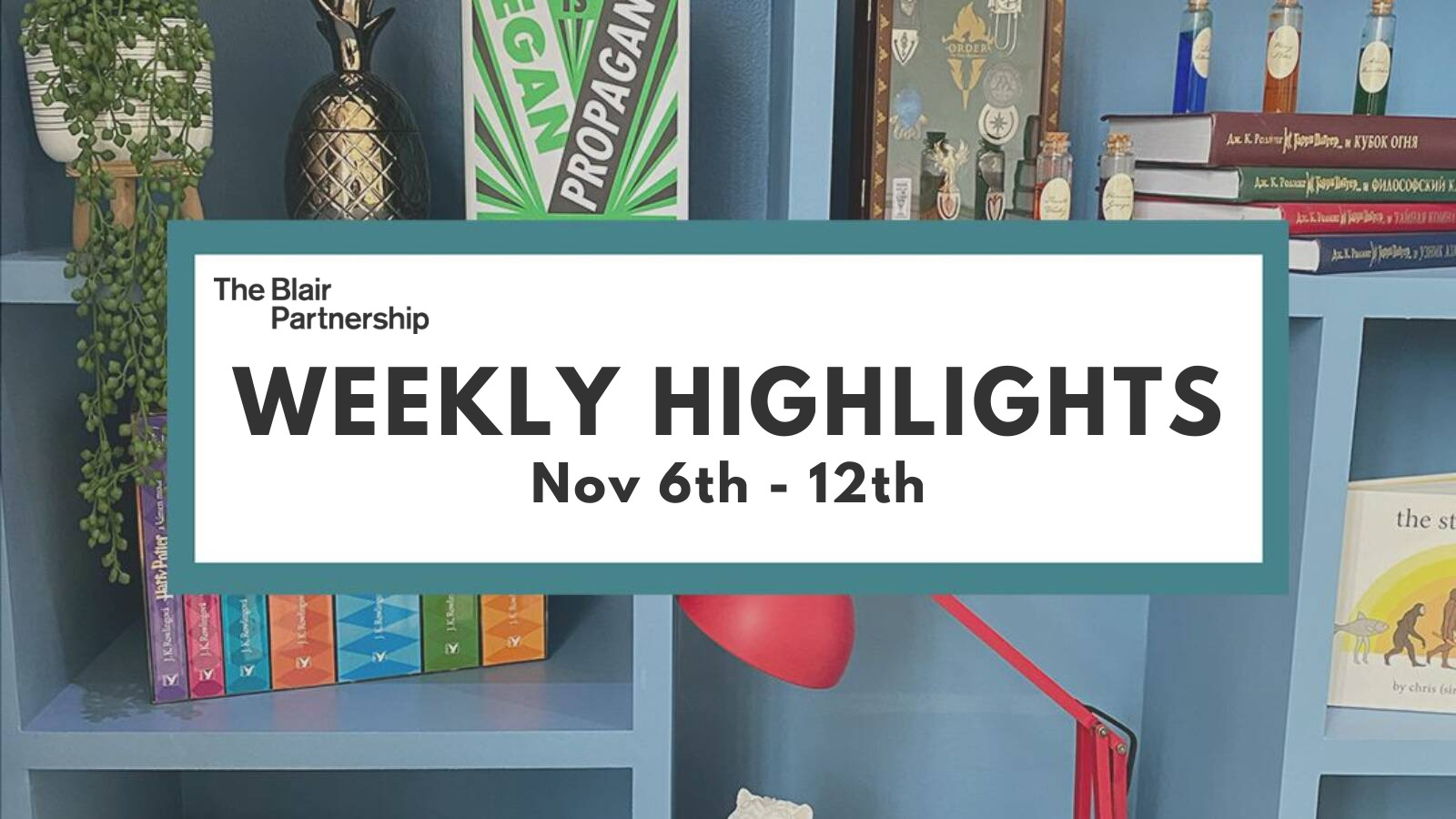 This week at The Blair Partnership has included a lot of wonderful reveals and announcements, in addition to a TBP author getting involved with Children in Need and another client receiving a prestigious award!
Books Published
On the 9th of November, Charlie Lyndhurst's heartwarming book, FINDING OUR FAMILY, was published! It's a captivating, inclusive read about family and friendship that is guaranteed to make you smile. Buy your copy here.
FINDING OUR FAMILY is Charlie's fourth book published, and the latest in the line of wonderfully uplifting and perfect feel good reads. Check out Charlie's other books here!
Cover Reveals
We have a couple of very exciting (and gorgeous) cover reveals this week!
The cover for Margaret McDonald's much anticipated debut, GLASGOW BOYS, was revealed on the 6th of November, and we LOVE it! It's a coming-of-age novel that explores the power of identity, forgiveness and how even the most fraught childhood is not without hope. It is already garnering a lot of love online, and it's available for pre-order here. GLASGOW BOYS publishes in May 2024.
Our second cover reveal is Dan Malakin's THE WRECKAGE OF US, a thriller bound to keep you reading until the early hours. It will be publishing in June 2024, and you can pre-order THE WRECKAGE OF US here. If you can't bear waiting that long to tantalise your thriller tastebuds, Dan's last book, THE BOX, is available to buy here! If that doesn't sound like your type of thing, why not give Dan's debut, THE REGRET, a try? It's available to buy here.
Celebrations
Wayne Barnes' memoir, THROWING THE BOOK, is publishing on the 14th of November and Wayne recently spoke all about it with the BBC. As the referee of the recent Rugby World Cup final, it goes without saying that he is a man with much to talk about! Find out more here.
We received some mind-blowing THE RUNNING GRAVE stats this week! Robert Galbraith's latest book in the Strike series has jumped to number 4 in the Sunday Times top ten hardback chart with 4,570 copies sold last week (and 4,341 ebooks and 4,085 audiobooks), and approximately 275,000 copies sold across all formats six weeks post-publication!
In particularly wholesome news, the wonderful JJ Arcanjo is participating in this year's Children in Need book auction. If you'd like a signed (and dedicated) copy of CROOKHAVEN: THE SCHOOL FOR THIEVES that will also be posted by JJ himself, start your bidding here (or via the QR code below).
Book Announcements
The news is out! The Self Care Club podcast creators, Lauren Mishcon and Nicole Goodman, will have their debut published by Welbeck in February 2024. HAVE YOU TRIED THIS? is going to provide an empowering look at the world of wellness and self-help, and will include exclusive content not featured on the podcast.
In HAVE YOU TRIED THIS? Lauren and Nicole use their experiences to debunk the wellness world and bring true, authentic self-care centre stage. Pre-order your copy here!
Non-Bookish News
This week, it was announced that the ever brilliant Marina Abramović has been honoured as Artist of the Year at the Women of the Year Awards, and we couldn't be more proud! Read all about it here.